Bare Wires was the fourth and final studio album of John Mayall's Bluesbreakers, released in June 1968. It was (arguably) the Bluesbreakers at their absolute best, their most creative, and their most original. But it was also a step away from the pure blues that had defined Mayall's previous work, with elements of jazz and psychedelia very much in evidence. It was recorded by a new line up: Dick Heckstall-Smith, Jon Hiseman and Tony Reeves all sharing the same jazz background and this really comes through. But of course Mayall and Mick Taylor keep (at least one foot) firmly in the blues! It is perhaps not as well-known today as 'Blues Breakers with Eric Clapton' (the Beano album), which is a shame, but this is an outstanding album, and one that is very much worth checking out!
John Mayall continually changed Bluesbreakers' personnel throughout the 1960s, but the musicians who recorded Bare Wires started to assemble in mid-1967, with Chris Mercer (tenor saxophone), Mick Taylor (guitar) and Dick Heckstall-Smith (tenor and soprano saxophones) all signing up between May and August 1967. These were joined by Tony Reeves (bass) and Jon Hiseman (drums) in early 1968. Some of these musicians had worked together in previous projects: Reeves, Hiseman and Heckstall-Smith had played with the New Jazz Orchestra, with Reeves and Hiseman appearing on the Western Reunion London 1965 album, whilst Hiseman and Heckstall-Smith had previously played with Graham Bond.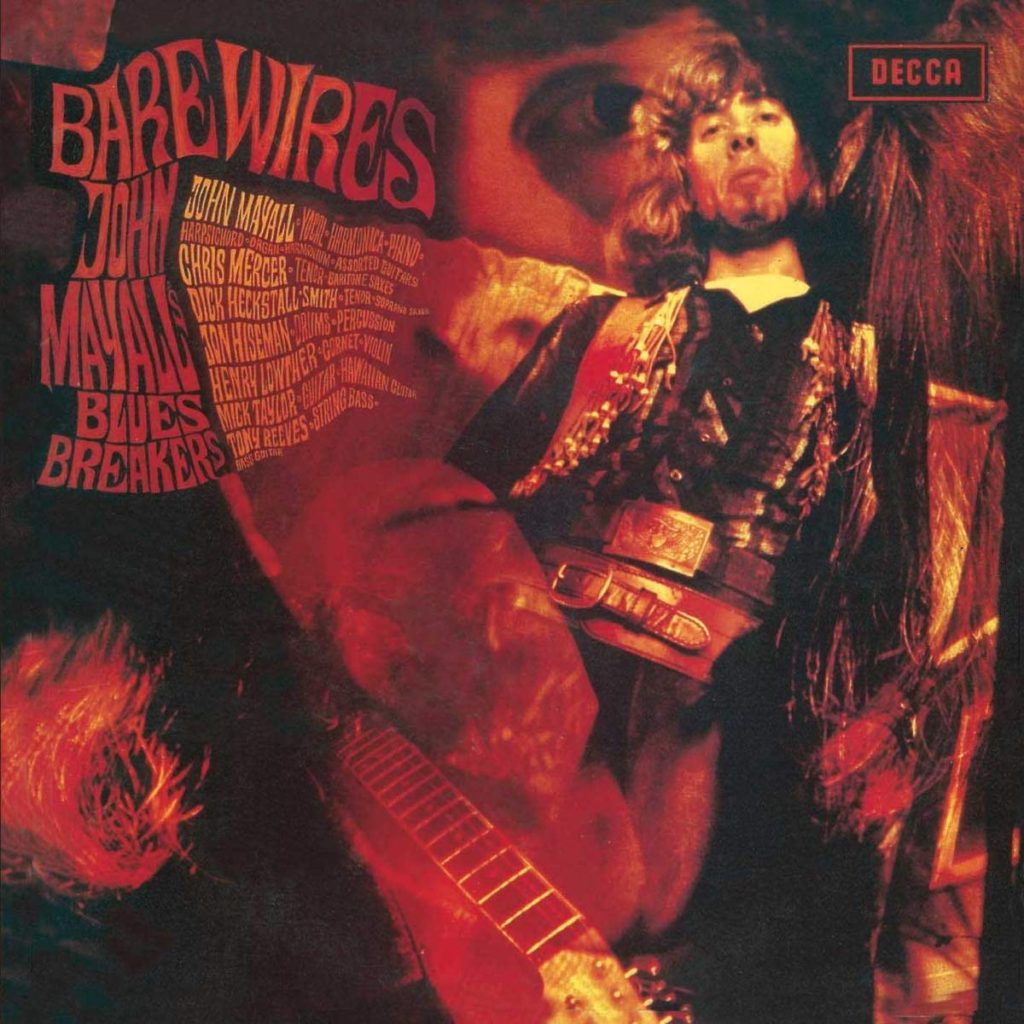 "This is my story so let this music be my true voice"
Previous Bluesbreaker albums had consisted, to a large part, of Blues Standards, yet Bare Wires consisted entirely of original material. Mayall told the Guardian in 2014 "I've never thought the blues was a matter of copying other people. The blues singer should sing songs about his own life. And once the ball got rolling, I felt confident enough to do that as well as cover other people's songs, and the tributes. You've got to think about representing your own life in the music, and for me that meant bringing in an element of jazz; I was brought up on jazz, it was my father's work, it was in the house."
And the spirit of early 1968 was very much in evidence. For the Bluesbreakers, this was a pretty psychedelic record – not in terms of traditional psychedelic motifs, i.e. electronic effects, but in terms of introspective lyrics, "anything goes" progressive orchestration (several tracks with guitar/keyboards replaced by violin, harpsichord, harmonium etc), and a jazzier approach to soloing and harmony. Mayall was famous for modifying his guitars, and there are numerous guitar sounds to be heard on this album, other than straight electric and acoustic. This line up (as with all Bluesbreakers line ups) didn't last more than a few months, and Hiseman, Reeves and Heckstall-Smith went on to form Jazz-Rock mega-group Colosseum. Some elements of these tracks can be heard 1969's 'Those Who are About to Die Salute You' – most notably 'I started walking' and 'Open up a new door'.
Importantly, there was already some chemistry between these musicians, with recording starting almost immediately after the band formed. The first studio session was April 3rd 1968, and was completed in three more sessions that month.
Bassman Tony Reeves recalls "All of the things on the "Bare Wires" album were worked out in the studio – we must have done one or two rehearsals actually playing the music, but I can't remember that: seems to me, most of the work took place in the recording studio.
As with other Bluesbreaker albums (and so many other fantastic British blues rock recordings, including Savoy Brown, Fleetwood Mac, Ten Years After), this album was produced alongside Mike Vernon, founder of Blue Horizon Records.
Bare Wires vinyl release
The album was released in the UK on Decca on June 21st 1968, with catalogue number SKL 4945 (stereo) and LK 4945 (mono), reaching #3 in the UK charts. It was released in America on London Records, catalogue number PS 537, and was the first successful American Bluesbreakers release, attaining #59 in the US charts.
The track listing was as follows:
side 1
Bare Wires Suite

Bare Wires (1:25)
Where Did I Belong (3:05)
I Started Walking (2:20)
Open Up a New Door (3:00)
Fire (3:45)
I Know Now (5:35)
Look in the Mirror (2:51)
side 2
I'm a Stranger (5:14)
No Reply (3:09)
Hartley Quits (2:55)
Killing Time (4:48)
She's Too Young (2:22)
Sandy (3:50)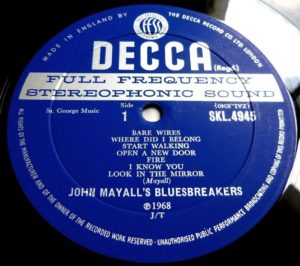 Like a lot of the progressive music of the late 1960s, this is not background music – it's music made to sit back and really LISTEN to. If you are looking for classic mid-sixties Bluesbreakers, side two delivers. But if the acid tinged British blues-rock of 1968 is your thing, side one's "Bare Wires Suite" is actually by far the better side. In its 22 minutes, it offers textures and moods that blend seamlessly into each other, switching between haunting, exhilarating, upsetting and soothing with very little notice. There are themes of loss and regret, perhaps in reaction to his recent divorce – certainly highly personal – Mayall's experience of psychedelia, was clearly his own – less surreal, and seemingly more introspective than many of his contemporaries. There are no 'purple fishes' or 'tangerine trees', and certainly not the vaguest hint of space travel. You can't help but feel Mayall's pain throughout the suite. But the chemistry between Reeves and Hiseman is undeniable, resulting in some exceptional grooves, with the other musicians adding some supremely tasty icing onto the cake.
Bare Wires side one
Bare Wires Suite starts with 'Bare Wires'; a melancholy sea shanty sung by Mayall and played solely on a harmonium. "These are bare wires of my life since it was cut down the middle by love". But there is the promise of a better day: "Tides have been turning, I have been learning", but the pain is real and present "all my bare wires are alive". The opening is short, and quickly fades into a soft acoustic number 'Where Did I Belong' led by Mayall's bluesy vocal – a melancholy violin played by Henry Lowther takes the majority of the melody, over some atmospheric acoustic guitar and percussion, following a loose 12 bar pattern – "where did I belong – life is not worth a life when something is wrong". These segments hark back to Mayall's stripped back "Blues Alone" album.
It's almost 5 minutes in before the band kick in – and boy do they kick in. Mayall gets the writing credit for "I Started Walking", but this song perhaps derives from the Graham Bond Organization track 'Walking in the Park' that Hiseman played on a couple years earlier, and was later recorded by Colosseum on their first album [there are two versions of this song recorded by Bond – an earlier take with Ginger Baker on drums, and a far more gritty version featuring Hiseman]. The song launches with a pulsing hypnotic bassline over utterly tight yet totally loose drums, and some pretty intense stabbing rhythm guitar chord work from Mayall – but as great as this is, it's merely a canvas for some superb searing blues lead from Mick Taylor who alternately holds notes, then spits licks with real urgency over an ever building fill-drenched drums – awesome stuff. In a 1979 interview Mick Taylor explained "I just sat down in front of the speaker, and it started feeding back. I was using a Fender Bassman amp with a Fender speaker, and that was with the Les Paul".
You'd love this track to go on and on, but before you know where you are the horns announce a turn around and we are into the next movement of the suite. 'Open up a New Door' has a strutting Lieber & Stoller R&B type vibe – again with absolutely devastating biting guitar. After a couple verses Mercer and Heckstall-Smith's jazz harmonies turn us around yet again for a breakdown – and what a breakdown. We start with a bass and moody sax wig out courtesy Chris Mercer, evolving into a 'Tramp' motif with a little help from the guitar – Reeves doesn't loose the grove and the result is a Heckstall-Smith's rhythm that would be re-recorded as 'Debut' for Colosseum in 1969. As always Hiseman's drums build and build, adding fuel to the fire. One of the high points of the whole album.
Which brings us nicely to 'Fire' – a free form, deliberately uncomfortable aural soundscape of harmonica and percussion – with some backwards guitar and sex noises (supposedly Mayall and a groupie) low in the mix. There's pain in the lyrics once more. Again "Feel my love like a fire, feel my warmth, but you can't touch the center.. i'm a fire that will burn you if you get too close".
But thankfully the pain is soon soothed by 'I Know Now' – this is the realization… a slow churchy organ, major key, jazz brushes, practically no guitar (a little wah wah low in the mix), and only very subtle bass and horns – and even some harpsichord towards the end. A little mournful.. "it may be too late for many things to be erased", but with hope "I know now, there will come a day when I may be changed". This song certainly marks a healing phase. Perhaps the sun rising on the Sunday morning of a jaggedly psychedelic Saturday night.
The suite ends with 'Look in The Mirror' – another high point of side one. Again lead by Hiseman's simultaneously controlled yet explosive drumming, and Reeves melodic acoustic bass high in the mix – their jazz pedigree really shining through here. Mayall plays a nice bluesy piano interspersed with some very expressive woman tone from Mick Taylor. After the first verse, the bass pretty much solos throughout the rest of the track, with sax replacing the guitar for an almighty wig out – a very exciting example of Heckstall-Smith's characteristic dual sax playing. Fantastic stuff. Lyrically this song sums up the deep introspection of the psychedelic experience – you might not like what you see, but there is always hope for redemption – the song ends with the line "Look in the mirror, no more left to say, night must fall and then i'll start a new day" – however Mayall also whispers a barely audible warning "Don't stare in the mirror too long or you'll get cut with pieces of splintered glass".
Bare Wires side two
On to side two. This is a great album throughout, but frankly nothing on side two (for me anyway) quite matches the musical excitement or lyrical poignancy of side one. Reeves and Hiseman, who power a lot of side one, to some extent fulfill their roles as employees – and there's nothing wrong with that, but the creativity they show on side one is missed..
'I'm a Stranger' is a slow organ driven 12-bar, with some super laid back rhythm guitar, a nice sax solo and (as always) great drumming but frankly nothing that makes it stand out.
'No Reply' is a stripped back funky 12-bar, written by Mayall and Mick Taylor. It combines dual wah-wah guitars, harmonica, and a very simple yet cut down percussion track. Certainly interesting in terms of orchestration, and ending with psychedelic harmonics as it does it could easily have been part of the 'Bare Wires Suite' (perhaps it was cut due to timing issues?). This track appeared as a single (Decca F12792) backed with 'She's Too Young', released before the album on June 7th, 1968. This is an odd choice for a single; it is a good track, but a single edit of 'Start Walking', 'Open up a New Door', or 'Look in The Mirror' would surely have been a better choice.
'Hartley Quits' is a full band instrumental stomper where guitar and horns double up on melody – starting with a rich big-band feel, with plenty of stabs from the brass section – it's perhaps more 1966 Bluesbreakers than 1968. This track was written by Mick Taylor, and has a nice blues lead. Mayall's keyboards, Reeves' bass, and (to a lesser extent) Hiseman's drums are all a little restrained, which is a shame. At under a shade under three minutes, they could have taken this a little further. The title is a reference to previous drummer Keef Hartley who left the band in early 1968.
'Killing Time' is a slow slide blues with lazy sax, and some great soloing throughout. Reminiscent of the music Taylor would be making with the Stones a couple years later. This is perhaps the highlight of side two, Mayall's Vocal is spot on, with gorgeous guitars, very laid back drums and a fantastic Henry Lowther Cornet break in the middle.
'She's Too Young' is an Upbeat Soul / R&B dancer, and something that would probably have gone down well in the London Rhythm and Blues clubs a couple years earlier. Stabby rhythm guitar and brass, great sax solo in middle and as usual fantastic drumming.
'Sandy' is a country slide blues played by Mayall with just a little light percussion and a touch of violin. The guitar is all Mayall and has a resonator guitar feel to it. Mick Taylor recalls: "I'm just trying to remember what the guitar was that John used. I think it was probably going through a Leslie speaker or something. I remember the track you mean, yeah. I think the guitar he was using was just a guitar he had kind of made up himself. I'm pretty sure he used it through a Leslie speaker, and he used a slide, and that's that strange kind of eerie sound you're talking about"
2007 CD bonus tracks
The additional tracks on the 2007 CD release of this album do not all feature the original 'Bare Wires' line up. The first two tracks are the A and B side (Jenny / Picture on the Wall) of a single (Decca F12732) recorded in a session from Dec 4th & 5th 1967, and released on Feb 9th 1968. Keef Hartley provides percussion with Peter Green guesting – you can't miss his distinctive guitar tone or style!
'Picture on the Wall' is a sunny stripped back acoustic country blues, of slide guitars and very light percussion. 'Jenny', by contrast, is atmospheric and haunting – a 12-bar by Mayall, with just vocals, and Greens reverb-drenched blues soloing
But back to the 'Bare Wires' group. 'Knocker's Step Forward' is an outtake from the original April '68 sessions, that appeared on 1971's "Thru the Years Decca" compilation. This is a cooking jazz-blues instrumental that really should have made the final cut. The whole band is ON FORM! An up-tempo sixteenths rhythm, and a progression that steps away slightly from the usual 12-bar pattern. It opens (and closes) with a carefully planned descending theme played by (I think!) Mercer to the left, Heckstall-Smith to the right and Taylor's guitar right in the centre, all three three harmonizing beautifully. But with a flick of a switch we are into Taylor's snarling blues lead – taking no prisoners! All the time backed by brass stabs. Straight into a tasty jazz sax break – once again we are treated to Heckstall-Smith's dual tenor/soprano sax playing. Nice! But just as you think it can't get any better Taylor comes in with another solo – this time with the tone control rolled down – and boy is it sublime! This is perhaps the jazziest track on the CD, and the band at its best. Perhaps it was a step too far from the blues for inclusion. Shame, it really is awesome. This would have made a great album even better!
"Hide and Seek", another outtake from the original sessions, is a solid rocking blues 12-bar with just harmonica, guitar, bass, and drums accompanying Mayall's vocal. It's a strong piece of blues rock, with some nice guitar work but maybe a little formulaic; it does lack some of the excitement and originality of other tracks from these sessions.
The last two tracks of the album represent the Bare Wires band's live output, recorded in Brighton, UK on May 25th 1968. Both appeared previously on "Primal Solos". It's good to hear the band live, but the sound quality, as to be expected, isn't amazing. Interesting but not essential. "Look at the Girl" has some interesting sax work, and a some tasty slide guitar. The track builds and builds and is pretty exciting in places. Would certainly have been great to hear a studio version of this.
The final track is a "Start Walkin'" from the opening 'Bare Wires Suite'. That take is just 2:20, and as one of the highlights of side one, it would have been awesome to see this live. It is much extended here at 8:23 with a lot more of Mick Taylor's lead – and he does play some great guitar, and even slips into some eastern sounding licks. But frankly there's nothing here that betters the studio version – add considering the diminished quality of the live recording, you should probably just defer to the studio take.
Mayall never stuck with any line up for long, and he disbanded the band in July 1968, half way through their German tour.
Bare Wires is a great album, and the 2007 CD release makes it better still. If you are a blues rock fan, or into the late sixties British rock scene, this album is very much worth checking out. Find Bare Wires on Amazon