Peter Green started his own band, Fleetwood Mac, after serving his blues-rock apprenticeship in John Mayalls Bluesbreakers; his haunting and desperately sad blues guitar style was merely a reflection of his own troubled personality, and by 1970 he had left the band. This short period in the bands history is often referred to as Peter Green's Fleetwood Mac, but it is a period of superb blues music, phenominal guitar playing, and a world away from the music that was to follow on.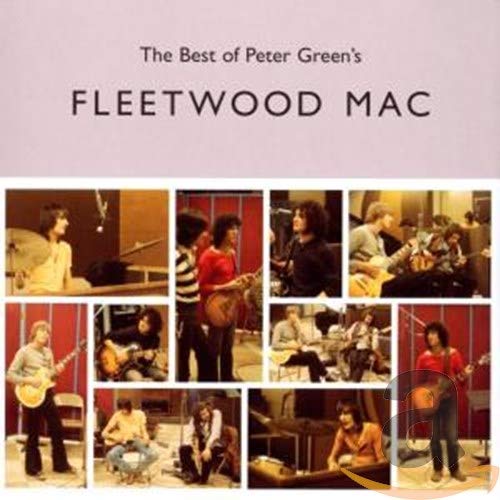 Green joined John Mayall's Bluesbreakers as a replacement for lead guitarist Eric Clapton. His haunting guitar-style was already evident in songs such as the Supernatural a style that he carried forward into Fleetwood Mac.
Unlike other British bluesmen, Peter Green really had the blues. His battles with mental health exacerbated by heavy psychedelic drugs were to be his undoing, but perhaps also contributed to the extreme beauty in his songwriting (e.g. Albatross), and the painfully poignent themes, and lyrics: in Man of the World he sings "I wish I had never been born" – and you feel he meant it.
This 20 track compliation features the very best of this period, with straight ahead blues, such as Rollin' Man and Need Your Love So Bad, to the all out psychedelic rock of The Green Manalishi (With the Two Pronged Crown). Along the way there are biting rock classics Oh Well and some of the floating soundscapes that are perhaps a little better know Albatross and Dragonfly and Man of the World.
Peter Greens Fleetwood Mac were not just another UK blues-rock band; their skill in execution positioned them safely in the first division; anyone interested in UK blues rock or in blues-rock guitar playing needs to own this album!
1. Albatross
2. Black Magic Woman
3. Need Your Love So Bad [USA Version]
4. My Heart Beat Like a Hammer
5. Rollin' Man
6. The Green Manalishi (With the Two Pronged Crown)
7. The Man of the World
8. Something Inside of Me
9. Looking for Somebody
10. Oh Well
11. Rattlesnake Shake
12. Merry-Go-Round
13. I Loved Another Woman
14. Need Your Love Tonight
15. Worried Dream
16. Dragonfly
17. Stop Messin' Round
18. Shake Your Moneymaker
19. I'd Rather Go Blind
20. Albatross